Hello,



Welcome to the 43rd issue to subscribers of Right Writing News. If you are reading this issue forwarded from someone, be sure and use the link below to get your own free subscription.
---
If you like what you see here, please forward this copy and use this link to subscribe.
---
Table of Contents
1) Sell Massive Amounts of Books With One Sale
By Ted Rogers and Vickie Mullins

2) Check Out Terry's Speaking Schedule

3) 7 Secrets to Getting into Libraries
By Penny Sansevieri

4) Running Into A Brick Wall With Your Writing
By W. Terry Whalin

5) Make Your Facebook Fan Page The Easy Way
By W. Terry Whalin

---
Sell Massive Amounts of Books With One Sale
By Ted Rogers & Vickie Mullins
How do authors best utilize social media for successful book marketing and sales?

We've all experienced it … authors who "throw up" all over their social media contacts with a big push and promotion of their new, just-released book. "Buy my book" ... "Buy my book" ... "It's great" ... "Buy my book!" And it's done across every social media site including Facebook, LinkedIn and of course, we've all been Twittered-to-death by authors. We all hate this (except of course the author's mother and father … well mother as least!) and it's not going to convince us to buy a single book.

How should a shrewd author utilize social media to sell their book?

The most important thing to remember is that networks are looking for nuggets ... great content and information that will build relationships and help them live successful and fulfilling lives. So as a new author, excited to share your book, what could you offer?

Inspiration ... motivation ... with a great story or excerpt from your book. Share a helpful tip, or direct them to another rich resource. Capture their curiosity with your favorite, insightful quote. Inform them of new techniques, skills … innovation. Anything but, "Buy my book!"

And when you do this, do it with flair and vibrato ... and you'll effectively utilize the perfect power of your social network. We've just given you one small example of what we teach writers about selling massive amounts of books.

As the founders of Perfect Bound Marketing, we will answer your questions in a free live 70-minute telewebcast on Wednesday, November 3, 2010 at 5 p.m.. PST or 8 p.m. EST. Host Terry Whalin will use the questions from various participants to grill us about the little-known world of special market book sales. Anyone can ask a question at: www.massivebooksales.com and register for the free teleseminar.

I (Ted) signed my first special market sales campaign contract in 1993 and with a single sale sold more than 100, 000 copies of his book. Also I (Vickie), author of the I Want You To Know Me series have sold my books by the thousands. We guide other authors and publishers to use strategies which sell books by the truckload.

Each person who registers for the teleseminar at: www.massivebooksales.com will receive our free special report, 26 Secrets & Steps for Book-selling Success.

Don't have time to listen to the teleseminar during the workday? No problem. The event will be recorded and every registrant will receive access to the replay links which can be downloaded to a computer or iPod.

We hope to speak with you on Wednesday, November 3rd. Sign up today at: http://www.massivebooksales.com.
---
Ignite Your Dreams Now and Get Expert Advice in JUMPSTART YOUR PUBLISHING DREAMS by W. Terry Whalin. Pick up the paperback or the ebook version at: http://www.jumpstartdreams.com

Also you can sample the book at: http://www.terrylinks.com/jypd
---
Check Out Terry's Speaking Schedule
2010 Schedule

November 3, 2010

Sell Massive Amounts of Books FREE Teleseminar with Special Market Sales Experts Ted Rogers and Vickie Mullins. Receive a special report, 26 Secrets & Steps for Book-selling Success when you sign up at: http://www.massivebooksales.com

November 8, 2010

Jumpstart Your Publishing Dreams FREE 60-minute teleseminar at 10 pm Eastern/ 7 p.m. Pacific as part of the Global Teleclass Network. Register for this event at: http://bit.ly/9POKct

November 11 - 13, 2010

Heart of America Christian Writers Fall Conference in Kansas City, Missouri. Learn more at: http://bit.ly/dePxC3

2011 Schedule

January 29, 2011

Jumpstart Your Publishing Dreams a live day-long information-packed seminar in Dolton, Illinois (near Chicago). Follow this link to get the details: http://bit.ly/9cvpwU
---
7 Secrets to Getting into Libraries
By Penny Sansevieri
In an economically challenged climate guess what starts to soar? Libraries. The library market is strong and getting stronger. If you haven't made libraries part of your target market you should. And despite all the book buzz online, it's still nice to get your book onto a library shelf. For most of us, this seems like an exclusive right devoted to an exclusive group of best-selling authors. While some piece of this is true, the reality is that if you have a good book, you can get into the library system. Here's how.

First, why would you care about hitting the library market? Because in a slow book sales season, as we've seen in the past few months, libraries are a great way to get to your reader.

1. What they buy: Each library gets a budget and they can spend it any way they want. Unlike Barnes and Noble, where their book purchases are often dictated by publishers or a sales order from their corporate office, libraries operate independently of each other. Libraries will generally buy hardback and trade books and tend to shy away from mass market paperbacks, but if you're in the latter category, don't let this deter you. There's still a lot of wiggle room when it comes to library orders and a few creative ways to get into their system.

2. Getting to know your local library: If you want to get into your local library it's important to get to know them, so dust off your library card, stop by and introduce yourself. Get to know who you're selling to.

3. Library websites: If your local library has a website, see if there's a place to make book recommendations. If you have local fans, encourage them to do the same on their library websites.

4. Library events: If you've been trying to get into your local bookstore to do an event but haven't gotten much traction, why not consider doing a library event (or two)? It's a great way to get "into" your local library, become acquainted with them, meet your local readers, and well, you know - get more exposure for your book. Many libraries also have reading groups that you might be able to participate in.

5. Reviews: Most libraries look to review sources for their selections as well. Consider submitting your book to the following publications for review: Library Journal, Publishers Weekly, Booklist, Kirkus Reviews, and Forecast. These publications are largely ready by libraries and often librarians will buy based on a good review in one of these publications. You don't need to get reviews in all of them (though wouldn't that be great?) - getting a review in one of them should be more than sufficient to catch the eye of a ready-to-buy librarian.

6. Popularity: Librarians like to stock what's popular, even locally. So if you're doing a lot of local events, talks, or speaking gigs, make sure and let your local libraries know. Also, if you're going to do TV or radio be sure and alert your library, thus giving them sufficient time to order the book.

7. Distribution: It's important to know how libraries get the titles they stock. First off you'll need to get the right distributor for your book. Both Quality Books and Unique Books have programs that can help you access the library market.

Quality Books Inc. http://www.quality-books.com/

Unique Books Inc. http://www.uniquebooksinc.com/

Baker & Taylor: http://www.baker-taylor.com/ (technically they are a wholesaler but can also help you access the library market)

There's also a nifty little site that will help you locate libraries in your neighborhood and around the world: http://www.libdex.com (libraries worldwide)

Libraries might not seem as "glamorous" as the store window of Barnes and Noble, but libraries have considerably more staying power. Once your book is in their system it's in there for as long as your book is in print and the library sees there are readers for it. Also, consider the reorders as your local library will (hopefully) bring in more than one copy. Libraries are a not-to-be-overlooked part of your marketing campaign, and if you missed the review window, don't fret. You might still be able to gain some interest via events and local popularity!

Reprinted from "The Book Marketing Expert newsletter," a free ezine offering book promotion and publicity tips and techniques. http://www.amarketingexpert.com
---
Never miss a word with the Pulse smartpen
---
Running Into A Brick Wall With Your Writing
By W. Terry Whalin
Are you sending your query letters to magazine editors and only hearing silence? Or maybe you are trying to get a literary agents attention and your submissions seem like they are disappearing in a black hole because you receive no response. You are not alone in that feeling. Experts estimate that during any given moment, there are more than a million book proposals and pitches circulating in the publishing world.

It's easy to understand if you've ever visited an editor or agent in their office. Many people only know their editor or agent from the phone or email but I've been in a number of these offices over the years. Often I've seen stacks of paper submissions and manuscripts. Now that many of these submissions arrive electronically, it's not as visual but the information is still stacked into someone's email box for consideration. It is not surprising that files are lost or misplaced. In this "hurry up and get it done yet done right" world, it is important to build relationships with editors and agents when you see them at conferences. That relationship could be the difference whether your email or submission is read or ignored.

Here's three keys to moving beyond this roadblock to your writing:

1.Understand some things about rejection. I've written about it in other entries in The Writing Life. The reason for rejection may have nothing to do with you. Your responsibility as a writer is to simply persist and continue perfecting your craft and looking for the next opportunity to get published--large or small.

Whenever I feel like I'm running into a brick wall with my writing, I re-read James Scott Bell's article, Rejecting Rejection. Notice what he writes toward the end, "I wrote for three solid years before selling anything. I wrote a small landfill of stuff—novels, screenplays, plays, articles, essays, jingles, poems and shopping lists. Part of this was my dues; I was learning the craft of being a writer. I was also learning the discipline of production, sitting down each day and doing a certain number of pages. This was invaluable education and training."

Are you willing to write "a small landfill of stuff" and persist for three years before selling anything. Jim Bell's discipline to the craft has paid off in his current writing and success of his fiction. You can follow the same well-trod path.

2. Open A New Opportunity. Are you attempting to write a 100,000 word novel and not finding anyone to read it? Or is your poetry not getting published? No matter what type of writing you are doing, here's the simple idea: try another type of writing.

If you are looking for a list to spur new types of writing, I recommend you read the free excerpt from my book Jumpstart Your Publishing Dreams. This chapter includes an extensive list of the various types of writing. You may discover that you have a bent toward something completely off your radar. If you try it and find success, then keep writing that type of material. It may be just what you need to move your writing in a new direction. Head over to this location and download this excerpt. Print it out, highlight and study it.

3. Begin To Create and Sell Your Writing Online. This third option may be outside of where you are thinking. I've written for more than 50 print magazines and published more than 60 books with traditional publishers. You may know that I have thousands of pages of free content online which has helped many people. While I am committed to the traditional forms of writing such as books and printed magazines, there are other types of opportunities for you as a writer online. I'm not talking about blogging or some other means where you give away your information. I'm suggesting you create and sell how-to information.

There are several reasons for moving in this direction with your writing. First, how-to information continues to sell online and there is great opportunity for you to sell your specialized information. Second, it is something you can do on your own with a shoe-string/ minimal financial investment. Third, you will be paid much more rapidly for such effort than through traditional print media. If you write for magazines, they are typically at least 30 to 90 days away from payment after acceptance. If you write books, typically you receive a modest advance then earn any additional funds on your royalties. Many traditional publishers pay once a year or four times a year (quarterly) at best. If you create and sell information online, the customer pays for it and you receive the money in your account. There is no middle man to hold then give you the funds. If you use a paypal button, then the funds go immediately into your paypal account.

Here's the best help I can give you to start this process of creating and selling online information. Recently, I interviewed my friend, Bob Bly. For everyone who registers, Bob gave a 52-page special report: How to Make $100,000+ A Year Selling Simple Information Online In Your Spare Time. This teleseminar was recorded and you can have immediate access to this report and the recording at www.AskBobBly.com. For the question, put "no question." You will reach the replay page and have immediate access to this recording and free special report.

Listen to the teleseminar since Bob gave great details in this session. Then study the special report and apply it to your own writing.

Take action on this third key and it could change your writing forever. I know it has for me and I continue to work on my online promotion.
---
Make Your Facebook Fan Page The Easy Way
By W. Terry Whalin
Until a few months ago, I was not very active on Facebook. Yes I had an account but rarely went to the page and used it. I changed my use because I continued to read the statistics about Facebook users. Several months ago, Facebook surpassed Google as the most used website in the U.S. Incredible that it is more than Google.

I could no longer ignore Facebook. Look at these statistics from their pressroom:

* More than 500 million active users
* 50% of our active users log on to Facebook in any given day
* Average user has 130 friends

I took action in several ways. I made sure that my tweets on Twitter were reposted on Facebook. I do use a little application on Facebook to replicate these tweets but it's not 100% effective. If it misses something, then I take several seconds to cut and paste that tweet into Facebook. Also in a consistent way, I started inviting more people to be my friend on Facebook.

My Facebook friends grew to over 4,000 and I became aware of a limitation within Facebook Friends. The system caps at 5,000 and you can't add any more friends. How could I continue growing my presence on Facebook? The Facebook Fan Pages have no membership limits. With millions of people, it can grow to be a large viral presence on this important social media site. Then I had another question: what is an effective Facebook Fan Page? What does it look like?

I began to do some online research and found some good information such as this article from a couple of years ago about why you need to make a Facebook Fan Page with six good reasons. Also I enjoyed this article about Five Elements of A Successful Facebook Fan Page. Finally I looked at 10 Top Facebook Fan Pages and Why They Are Successful.

My idea began to form about what could go on a fan page and why I needed to build one. Yet what would it cost. I started to do some research and asking around in this area. The prices seemed comparable to any website work. It varied from $200 to $2,000 (yes that is a serious price that I saw for a Facebook Fan Page). My goal was to create a page which was effective yet economical. I wondered how I could do it.

Online I learned about Fan Page Engine, an economical tool for building custom fan pages. I watched the online tutorials, checked the various information then I decided to try the basic package for $37. While their information is clear that the basic package includes two different business templates, I had already selected the third business template which included an opt-in form. I was only on the basic program for a few minutes before I had to upgrade with an additional $30 to the unlimited package or a $67 investment.

What if it didn't work out? On their FAQ page, Fan Page Engine offers a seven day no questions asked money back guarantee. While reassuring, I was more interested in getting a functioning fan page that would do what I wanted to do.

Here's the result: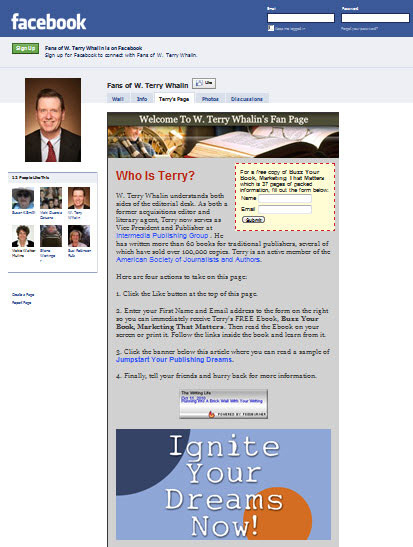 From the beginning, I knew that I wanted to offer a valuable gift or free Ebook to anyone who dropped by my page. Also I wanted to have a clickable graphic which would take the person to a site where they could learn more about my latest book, Jumpstart Your Publishing Dreams. It took about an hour to plan and figure out the contents of the page.

With about another hour, I built and launched the page. I am not a very technically skilled writer so it has to be pretty simple for me. If you choose to try the same template that I launched, I had a couple of other tools. First you need to create a header. I used XHeader which you can download and use free. Also for some people the opt-in form will present some challenges. I have been using the opt-in form from my shopping cart. In addition, the ebook that I'm giving away was already created. I used a program called Easy PDF Templates for that effort. I did write two autoresponders to make sure anyone who requests the ebook will receive it.

Fan Page Engine has done an excellent job of providing video tutorials. I would watch a few minutes, pause the video, then execute the instructions and return to the tutorial. I found the instructions straight-forward and easy to follow with lots of flexibility for color schemes within the template.

Please go by my Fan Page and "like" it then please tell others about it. Take action and get my free Ebook. I'd love to hear your feedback about the page. It's my first effort and I have plans to build others since I have the flexibility of different templates.

I wanted to encourage you to build your own fan page using this tool. It's not complicated and something that you can easily accomplish in a couple of hours. The exposure possibilities are endless--if you have one and can be promoting it.