Writers Are Readers
Readers love words. When you can find a quiet moment, do you curl up with a good book? I love a great story for a bit of escape. Also I love to learn new thoughts or a new skill with a good nonfiction book. The world includes both. Which type of book do you read and why?
Through the years, I have spent a lot of time poring over and through books. You can gain amazing insight as you learn from the experience of others. From this page, you can launch into learning about writing and find the specialized tools you will need to succeed in this business. I have a large bookshelf with five shelves in my office which are jammed with writing books. These books are not just decorations but I've read and highlighted (and in some cases) re-read these books. They contain incredible value.
This page will be constantly changing and adding resources to help your writing. You will read my honest reviews and opinions as a reader of these books. I've reviewed hundreds of books for various print publications. This bookstore will highlight great writing resources. Take a moment to use the Favorite button below then you can easily return as it grows.
Let me take a moment to thank you for taking the journey and having the courage to explore these products, purchase them and become a reader of these books. Many people fail to make such an effort so you should be congratulated. Now have the courage to take the next step in the process. Don't just purchase these books but apply them to your own skills and your writing. Then you will gain the ability to write right.
If you are searching for a writing product that I haven't added to this page--yet--then please use the search engine below to go to the Writers Store. They have some of the best prices around for writers and many other great features to check out.
---
Do you want to be a successful freelancer? Then use the book image below to read Terry's review of this book. You can learn from Nancy Hendrickson's valuable book of insight, stories and resources about how to build a writing career in a niche market. Or if you'd like to know more about Nancy Hendrickson, follow this link and read two author interviews with Nancy Hendrickson.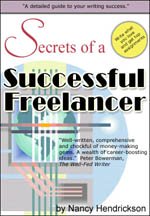 ---
Where do you classify your freelance writing? If you are a beginner to intermediate, then you will gain tremendous value from Suzie Eller's ebook below. Click on the button below to learn more:



---